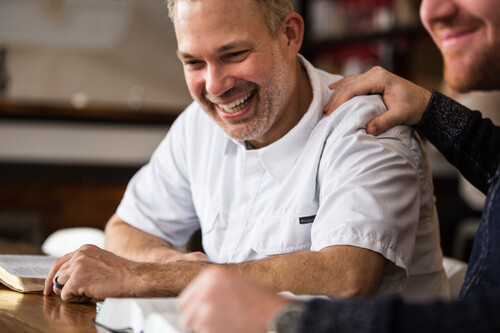 Every relationship is an investment. If we want to have a friend, we must be a friend. If we want to have a strong partnership, we must be a good partner. If we want to our children to love us, we must love them. If we want our marriage to be healthy, we must be healthy. Our normal tendency is to look at (and to) the other person and to wonder (even dream) about what he/she could do to make the relationship stronger. But as we've been reminded by so many...when we point 1 finger we have at least 3 pointing back at ourselves (I can never get my thumb to cooperate so there are 4).
What makes the investment into any relationship so costly is that it requires vulnerability...taking the risk to let someone else see us at a deeper level than just on the surface. If either person is not willing to be vulnerable, the relationship will remain surface and stagnant...which can eventually lead to bitterness, dysfunction and destruction...messy. Fear, disappointment, unmet expectations, and even impatience are all contributing factors that can keep us from being vulnerable and often can destroy intimacy (not just in the bedroom but also in the boardroom, around the water cooler, at the playground, across the street or table). Intimacy is not a sexual act but the allowance of one to be known and to know...closeness.
I've always admired Paul as an example of life and ministry. His words to the Thessalonians have always been a focus for me in ministry. It speaks of the type of vulnerability Paul expressed so that the Gospel would have skin on it. He says: "Because we loved you so much, we were delighted to share with you not only the gospel of God but our lives as well" (1 Thessalonians 2:8)
My relationships could use an increased dose of closeness...which will require me to be more vulnerable: to let others see my true feelings, my hopes and fears, my dreams and my disappointments, my ups and my downs. And my relationships could benefit from me knowing the same from my spouse, children, co-workers, neighbors, and friends. It's time to destroy the "killers of intimacy" in my relationships.
Jesus didn't let the expanse between Heaven and Earth keep us from seeing His true identity.
"The Word became flesh and blood, and moved into the neighborhood. We saw the glory with our own eyes, the one-of-a-kind glory, like Father, like Son, generous inside and out, true from start to finish." (John 1:14)
I'm ready to push through the obstacles that have prevented me from knowing and being known. I hope you are ready to do the same. For ultimately, it's not "them" but "us"!