High School
Grades 9 - 12
Noblesville
Worship Service, Sundays, 10:45 am
The high school worship service is 10:45 am Sundays. Expect to meet other students, experience high energy worship, and hear relevant teaching. Adults and students serve side by side to connect every student to Jesus.
Engage Sundays
Student Ministry will not have any programming on the last Sunday of each month at our Noblesville location. Instead we will be serving one service, and attending service in the Worship Center or Cafe for the other service.
Thursday Night Small Groups
High School small groups meet in homes at various locations on Thursday evenings. Contact a Student Ministry team member to get connected with a small group.
Hamilton North
Sundays, 5:30 - 7:00 pm
Join us at the Hamilton North Ministry Center to hang out, have some fun, but most importantly build in our relationship with Jesus.
CIY | MOVE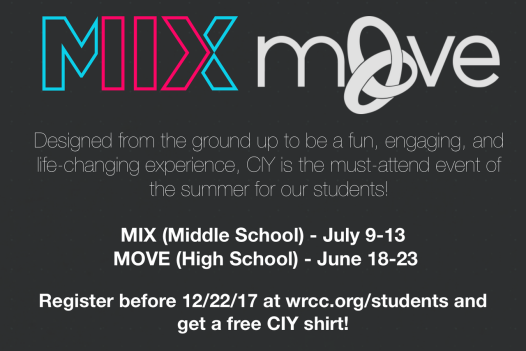 MOVE is a 5-day high school event held all over the country designed to amplify the call of Christ on students' lives to become kingdom workers. ​This year MOVE will be held at Hope College in Holland, MI. The dates for MOVE are June 18th-23rd.