High School
Grades 9 - 12
services
Sunday Night
6:30 - 8:30 pm
Our worship service on Sunday nights is specifically designed for high school students with opportunities to connect with other students, engage in worship, and hear from God's Word. Not only will you see students leading within our worship band, but they also help facilitate the Lord's Supper, games, and other components of our worship service. The teaching is geared towards the struggles, questions and lives of high school students. We'd love for you to join us in The Point Sunday nights!
Thursday Night
6:30 - 8:30 pm (off campus)
During our service on Thursday night, our high school small groups meet in the homes of their small group leaders off campus. Small groups are designed for a deep time of connecting and engaging God's Word and it's application to high school student's lives.
Sunday Mornings
During our two services at 9 am and 10:45 am, our high school students are encouraged to do one of two things. The first is to serve in one of the many opportunities within our Children's ministries. The second is to attend worship service with their families.
Current Teaching Series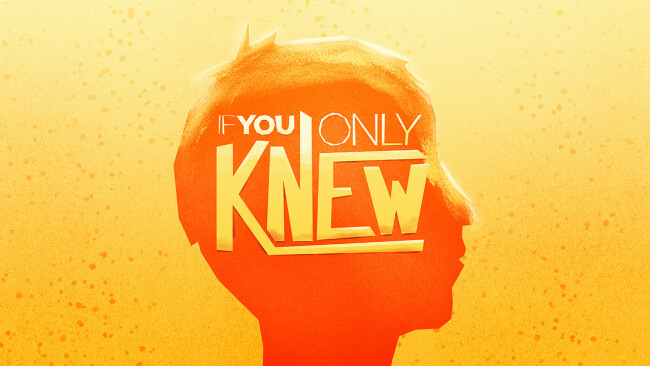 "If You Only Knew"
Have you ever felt a little crazy? Maybe you cheer for a sports team that no one else likes. Maybe you're the only person who doesn't love the new band everyone else is talking about. Maybe it seems like everyone understands what's going on in Spanish class except you. When you're in a situation where it seems everyone agrees or understands— and you don't—it can feel like you're losing your mind. You wonder, "Am I missing something?" Honestly, a lot of us have felt that way at church. We hear people talk about praying or reading the Bible in a way that sounds like it's the most exciting thing in the world, except...for us, it isn't. In fact, when it comes to the habits that are supposed to grow our faith the most, they're actually the ones we want to do the least. And maybe that's just how it is. Since prayer and Bible reading and church are good for you, maybe you're just supposed to just suffer through them. But what if you're missing something? What if the people who do these things just see something you don't see? And what if a single piece of missing information could completely change the way you interact with God, His Word, and His people? Maybe you'd go from "have to" to "want to," if you only knew.

You can help at home by checking out the ParentCue.
Student Baptism Class
Join us for a four week class for students in grades 6-12th who want to get baptized. You will learn why you get baptized, who you are in Christ as a Christian, who God wants to be in your life, and what steps to take after you are baptized.