Staff
The staff at White River Christian Church strives to live out the mission of connecting every life to Jesus. We love being able to serve alongside you in this endeavor. To learn more about our staff structure, you can view our Organizational Chart.
« Back to Staff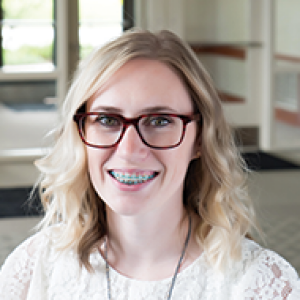 Aleks Slocum
Children's Administrative Assistant
office: 317-773-2233 ext. 130
As the Children's Ministry Administrative Assistant, Aleks is responsible for supporting the babies, preschool, kindergarten, elementary, and special needs ministries by preparing weekend services, coordinating volunteers, managing their social media presence, and coordinating communications efforts. She is passionate about creating opportunities for at-risk youth and teaching children about the love of Jesus. Prior to coming to White River, Aleks enjoyed teaching preschool. She lives in Noblesville with her husband and their four house plants (P.R.U., Hydra, Delphyne, and Bill.)

Hobbies: Aleks can be found managing the marketing and PR of Handmade Vintage Market, sewing and designing dolls for Aleks Handmade, playing boardgames, cooking (also seen eating), doing yoga, and taking naps.