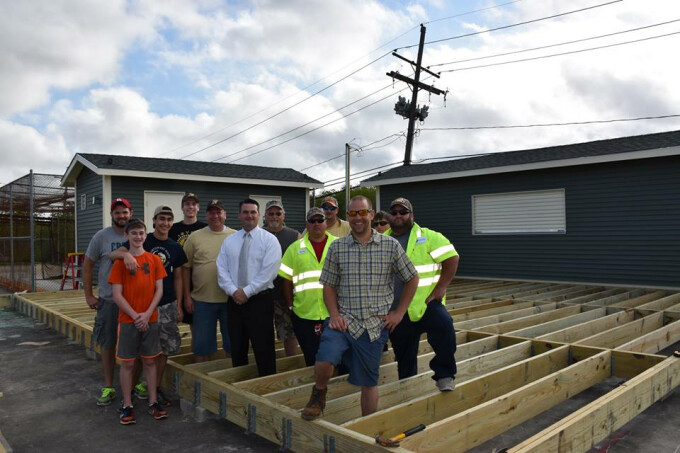 Work, Tradition and Rain
Tuesday and Wednesday were beautiful days in New Orleans. On each of those days, the team dug in, worked hard and completed a great deal of work. One of our crews completed the framework of a huge deck which is going to serve as a platform between the concessions stand and the restrooms at Carolyn Park in St. Bernard Parish.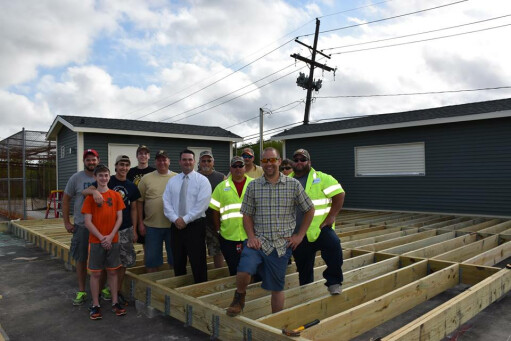 A second group did some clean up and painting at Patricia Park, while a third crew attacked a to-do list at our Camp Hope Volunteer Base Camp.
After a full day on the work sites on Tuesday and a half day on Wednesday, the crew headed to The French Quarter for lunch, shopping and sight-seeing.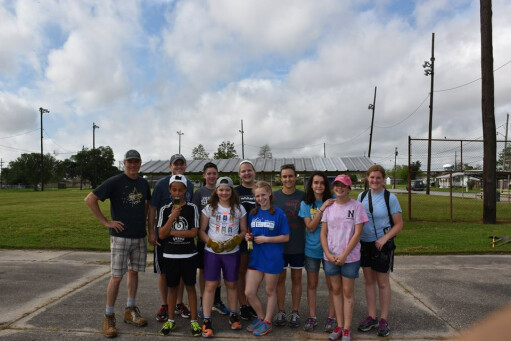 "Being on the deck crew, I was eager to just jump into work, but the first parts of building deck involve a lot of measuring getting set up, so it was kind of slow and it forced me to have a lot of patience," Kyle Wellman said. "After that was done, we were able to move along and complete a lot of work on Tuesday and Wednesday."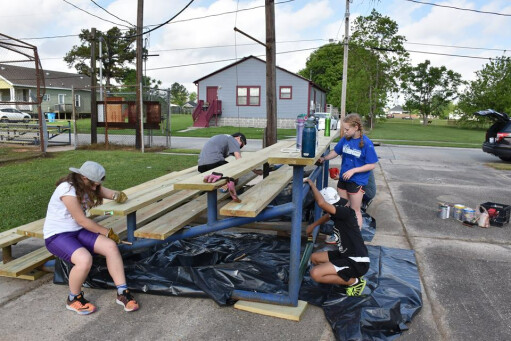 Following time on the job site and in the French Quarter, the WRCC crew returned to Camp Hope where the current high school students and adult leaders formed a panel to allow the middle school students to ask questions. Wellman, a senior at Noblesville High School on his fifth trip to NOLA, pointed to serving on the panel as a highlight of his week.
"My favorite part of Wednesday was being able to do the panel and answer questions from the other students as well as hear different viewpoints of life from the others on the panel," Wellman said. "It was cool to be able to give some of the younger students some insight into what to expect as they move into high school."
Fellow senior and also on his fifth trip to New Orleans, Tyler Marcum also pointed to being able to assist younger students a highlight of his week. "Being able to spend time with our other students was great. Having been on the trip before, at the beginning of the week on a project, I was showing them what they needed to be doing, because I've been here before," Marcum said. " When you get to the end of the week and you're doing a project, they have watched you and the new students dive in and get it done."
While Thursday held promise to be another productive day on the job sites, rain interfered with those plans. Instead, we spent a few hours of work around Camp Hope and then turned to team building and enjoying one another's company as rain stifled the work we could get done.
Unfortunately, the inclement weather interfered with what is arguably one of the highlights of each trip where we visit a local park and spend time with those who live in the surrounding neighborhoods. With outreach rained out, the plan is for an evening of games and hanging out along with a trip to a local ice cream shop.
This trip will likely be the last one for Wellman as he moves on to college next season, but reflecting on the past five years, he encourages others to consider this trip.
"It's a lot of fun, but it's also a lot of faith building," Wellman said. "A lot of people come down here thinking they are going to help people with less money and not as good a lifestyle as what we live, but the people here have helped me a ton more than I have helped them and the little projects I come to do here have helped them."
With closing out his fifth, and likely final, trip to NOLA with WRCC, Marcum is excited for the future of the trip. "Showing others on the trip what it means to love and to serve and especially to love and serve in New Orleans, is great," Marcum said. "It's great to see a big group of people who like to serve as much as you do. I see a lot of myself in some of the students and it's cool to see yourself in them. Being able to see the work you've done in the past and see what it has become is really cool; it's the whole big picture thing. You keep working on something, because eventually it will blossom into something more beautiful than you thought it would be. That's what this trip has become for me."
"It's a good starter trip whether you want to go as a one-time trip, or if missions is something you want to do for a long time. It's a great place to start. If a bunch of eighth-grade students can do it, so can you."
Gracie Friesen is one of the first-timers on the trip and came away with a memory of individuals and how they dealt with Hurricane Katrina.
"It's been really fun and I've liked making new friends on the trip," Freisen said. "I liked talking to the folks whose house we were working on about what it was like when the hurricane hit. I didn't know that we'd be painting, but I really enjoyed it."
It's hard to believe that our week is coming to a close, but tomorrow, we head back toward the Hoosier State with our 13th trip to NOLA in the books. Keep an eye on social media outlets and look for #WRCCNONA17